Your steps in connecting Notion to Airnotion will differ depending on whether you are connecting a personal Notion workspace, or a shared team workspace.
Connecting a personal Notion workspace
Follow these easy steps to get your connection set up:
Once Airnotion is launched, click on Import.

Hover over Notion (beta) in the source list and click on the Add button.

On the next screen, click on the Connect Your Account button.

Sign in to Notion (if you haven't already) via the popup window.

Provide the access requested by Airnotion and click Select pages.

If your Notion account contains multiple workspaces, you may select the workspace of your choice on the top right hand corner before proceeding.

Select the Notion databases you want to give Airnotion access to, and click Allow access. If you are an Admin, you will be able to add the entire Workspace, else you can only add specific databases you have access to.

Your Notion account is now connected! 🥳 Reports will be instantaneous - there is no syncing needed as Airnotion will do a live data pull from Notion.
Connecting a team Notion workspace
When connecting Airnotion with your team's Notion, the main thing you need to consider is your Notion admin permissions. Depending on this, Step 7 from the above instructions will be different.
To connect to a team Notion workspace, follow steps 1-6 as above.
If you are the Notion workspace admin:
The admin is usually the one who created the workspace. They can also grant admin access to other team members. As an admin, you are able to select all the Notion pages within the workspace to be connected to Airnotion.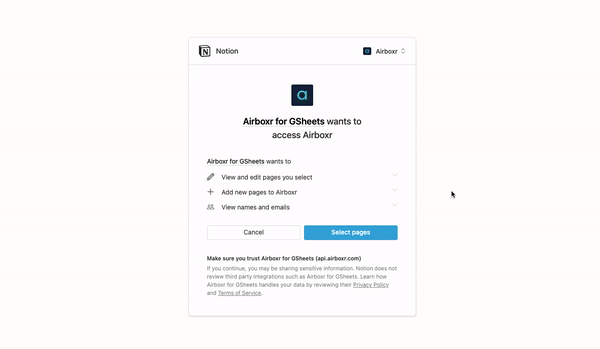 (If you have Groups set up, make sure that you are also added to the Admin group.)
If you are not the Notion workspace admin:
If you don't have admin access, you can still connect the relevant databases using the search tool. Simply type the name of the page(s) you want to add, and it will show up as 'Manually Added'. If you have a lot of tables, it may take Notion a few seconds to find your database.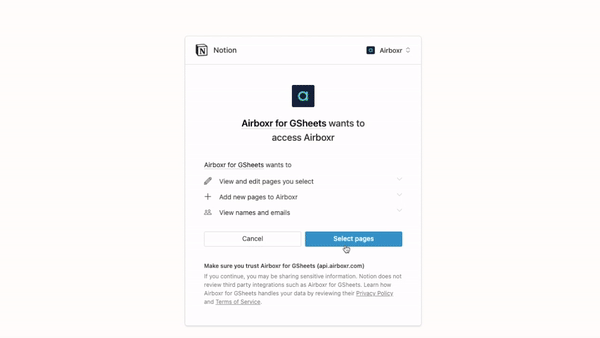 Click Allow access to connect your Notion account with Airnotion.
Note that Airnotion will only import data from Notion databases; any pages with text, images etc will not be imported.
Watch a video of how to do it: